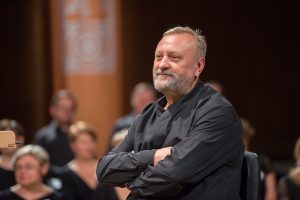 Andrzej Borzym Andrzej Borzym graduated from the Frederic Chopin Academy of Music (the Choir Conducting Faculty run by Prof. Henryk Wojnarowski) and Post-graduate Studies for Choirmasters at the Feliks Nowowiejski Academy of Music in Bydgoszcz. In 1981—1984 he was an assistant at his Alma Mater and in the 1983/1984 he was the Assistant Conductor of the National Philharmonic Choir in Warsaw. Andrzej Borzym conducted Cantio Polonica (1984—1989), University of Warsaw Academic Choir (1989—1999), Philharmonic Choir of Las Palmas de Gran Canaria (1996—1998) and co-operated with Sine Nomine Choir and NotaBene vocal group. Since 1994 he has been the conductor of University of Warsaw COLLEGIUM MUSICUM.
Being an contrabassist, Andrzej Borzym has worked with many theatres in Warsaw and with several artists performing so-called poetic music. Since 1982 he has worked in the Grazyna Bacewicz Music School in Warsaw, in 1992-96 managing the school as its headmaster. In 1992—1996 he conducted the choir and orchestra of the Karol Szymanowski Secondary Music School in Warsaw. For several years he has co-operated with Jeunesses Musicales de Pologne running international summer music camps, also sitting in choir contests juries in Poland. He composed Trzy miniatury (Three miniatures) for a choir a cappella, and a musical poem Czasem (Sometimes) and Suita dla niegrzecznych dzieci (Suite for disobedient children) with the libretto by Ancja Łabuszewska. He adapted the songs of Jerzy Wasowski and Jeremi Przybora and many Polish Christmas carols to choir voices.
He was awarded for several years of educational activities with the Polish Minister of Culture Award and the Silver Cross of Merit, also for the work with the Univeristy choirs — with the University of Warsaw Medal and the University of Warsaw Rector's Award.